The house at Trevarno was re-modeled in 1839 on previous building of the early 1700's.
We first visited the gardens in 1998, the first year they opened to the public. The signs of a good clear up were visible but the basic amenities for visitors were provided. There was a car park and defined paths around the woodland. We almost had the place to ourselves although it was a bank holiday weekend. The place was delightful. The first makings of the garden implements collection were assembled in the stable building and you could get a cup of tea in the conservatory. There were a few plants for sale but the walled garden was off-limits.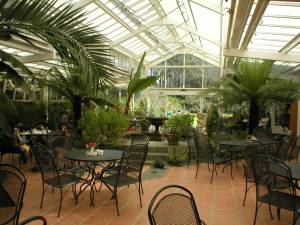 On Wednesday the 16th of April 2003, a day or two before Easter, we visited again. Although a lot busier the atmosphere was still the same. The exhibition, now laid out in a purpose built building near the entrance, is fun and informative. The walled garden was open to view.
With the restoration of the Trevarno water mill with a water mill museum , workshops on the making of handmade paper, tin smelting and jewelry there will be many more things to see and do. New gardens are planned with specific themes such as ' plant hunters and pioneers' and plants from specific regions such as Australia South Africa and South America there is much to look forward too.
However, I hope somewhere they keep a small part untended by the hand of man in almost a 'secret garden' tribute. I will always remember the disappointment of returning to a pristine walled garden at Heligan having seen it in its opening week when the walled garden looked very much as Trevarno's does today. You can tidy up a garden a step too far in my humble opinion . There is something very attractive about a faded old rose, blooming on regardless of inattention.
Sandra.
Photos Copyright 2003
Sandra & George Pritchard
You may use photographs from this site for non-commercial purposes but please give a credit. For high resolution photos for commercial use please contact the
George P Design
Site Last Updated
23/04/2003
5.

12.

Trevarno is also the home of the
which we also visited.
Return to
Map of how to find Trevarno Estate
Trevarno Web Site for opening times and entrance fees