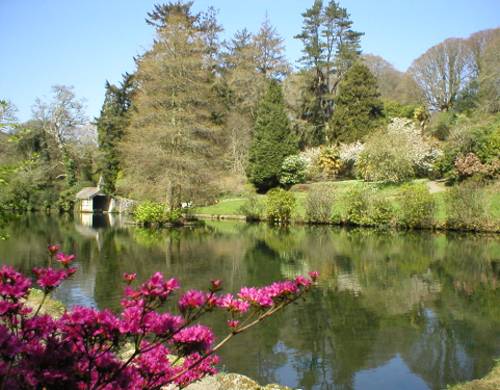 A map of the area for the year 1888 shows the lake before it was expanded. It seems that originally it was in two parts with the boathouse being located at the end of the larger area rather than in its present position. The expansion was carried out in the time of William Bickford Smith who purchased the estate in 1874. It is believed that he brought his gardener, Charles Francis Clark, with him from Illogan, and in 1881 Clark has two sons working with him on the estate gardens.
In order to view this map click on the word map below then type the following in the search box. 164345,30230 once you have done this click on Co-ordinate and then Search. You can enlarge the map at the bottom of the page as well as being able to see an ariel view.
To return to this page use your back button.
Photos Copyright 2003
Sandra & George Pritchard
You may use photographs from this site for non-commercial purposes but please give a credit. For high resolution photos for commercial use please contact the
George P Design
Site Last Updated